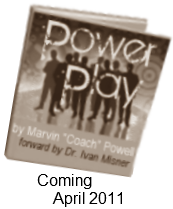 "Filled with empowering leadership strategies from the world's most dynamic leaders past and present, this book is the ultimate, cutting-edge playbook for current and future leaders across the globe."
-Ivan Misner, NY Times Bestselling author and Founder of BNI
Coach Powell's Power Playbook for Personal and Business Success represent sixteen high-powered strategies for personal growth and development. We have done our best to incorporate something for everyone: readers will experience quantum leaps in their careers, business leaders will be better able to serve their clients and build brand loyalty, and executives will dramatically improve their ability to guide and direct teams toward peak performance.
Each chapter is produced in sequence, but can also be studied "cafeteria style" as a stand-alone piece. You will be introduced to our powerful VisionQuest90™ process, as you work through meaningful exercises designed to stimulate thought and engagement. This trademarked process is at the center of everything we do at Coach Powell Training and Development, and it directs the sequence and rhythm of a maximized planning process. It will teach you to tap into your higher sense of self, and develop meaningful strategies for achievement.
Sign up for the $1 week trial of the Business Explosion Power Pak to be the first to hear about the book release.